NEWS
Watch Britney Spears & Jason Trawick Engage in "Criminal" Acts in New Music Video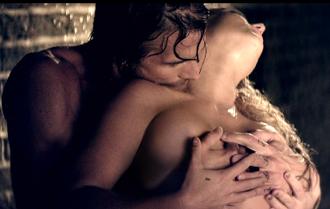 Britney Spears and her beau Jason Trawick certainly get down and dirty in her latest music video for hit single "Criminal." The 29-year-old enlisted the help of her 39-year-old boyfriend to play the role of her lover and they certainly steam up the screen!
The plot for the video revolves around Britney leaving her abusive boyfriend and falling for Jason's character, a criminal in London.
Brit becomes his accomplice and when the two are not robbing a convenience store they are having sex in their underground apartment or in the shower!
Article continues below advertisement
"The Criminal video is now on @VEVO! Heart bubbles to @Marrsattacks on making a great vid. Have u all seen it yet? " Brit Tweeted.
Director Chris Marrs Piliero told MTV News he was hesitant to cast Jason as Brit's bad boy love interest.
"I wanted to make a really rad, epic video, and I definitely got the sense from Britney that she wanted something really cool," he explained to MTV. "And in my mind, I was just thinking, 'We really should not be using your boyfriend; we should get an actor.' "
But Jason pulled it off — and looked pretty sexy doing it (he lost close to 50 pounds in the last two years and shows off his ripped physique in the clip.)
"At the end of the day, Jason killed it," Marrs Piliero said. "For me, it was a fun challenge to be like, 'I'm gonna make sure that you are awesome,' and he was."
Catch the clip, via VEVO, below!