NEWS
Watch Carrie Ann Inaba Get Proposed to on 'Regis & Kelly'; Jake Gyllenhaal In On Surprise!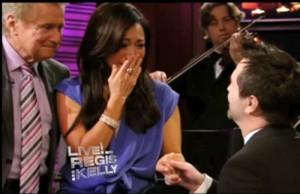 Dancing With the Stars judge Carrie Ann Inaba got quite the surprise proposal from her boyfriend Jesse Sloan this morning on Live With Regis and Kelly this morning! So what did Carrie Ann answer?
She said yes!
And Regis Philbin was Jesse's right-hand man, helping him execute the proposal.
He helped set things up by talking about marriage and then later in the show, Regis read "a reader's question" who asked for tips on how to propose to his girlfriend.
Article continues below advertisement
Regis began to advice suggesting flowers, and candles and dimming the lights.
"And after that, pal," the host said addressing "the viewer," "all you need is the ring."
Then Jesse entered surprising Carrie Ann and getting down on one knee.
"I struggle to find the words to express what you mean to me," he said, gazing up at her. "You're an inspiration, you're beautiful, you're wonderful, you're everything to me. Will you marry me?"
Carrie Ann did not hesitate with her response and when Jesse opened the box, Regis was very impressed chiming in with a "Whoa" and Carrie Ann began giggling excitedly.
"Yes, I will marry you," said Carrie Ann as she slipped the ring on and kissed Jesse.
"Isn't that something? We gotcha there, right?" Regis added, as fireworks went off on a screen in the background.
Article continues below advertisement
"That was the real thing. A big surprise to Carrie Ann," Regis continued, along with guests Jake Gyllenhaal and Howie Mandel, who toasted the couple with champagne.
And Jake was in on the surprise.
During the intro of the show, Carrie Ann shared with Regis that reports she were engaged were not true, even though she hoped a wedding was in the near future.
She even displayed a naked ring finger before the camera, and the audience chimed in with an "aww!"
But Jake, being the gentleman that he is, presented Carrie Ann with a mock engagement ring during his appearance!
"I'm shocked," said Carrie Ann. "I should have thought something was up."
Watch the romantic proposal below!