NEWS
Watch Casey Anthony Be Acquitted of the Murder of Caylee Anthony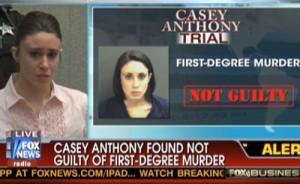 After over a month of emotional testimonies, the Casey Anthony trial came to an end Tuesday afternoon when the 25 year old was found not guilty of first degree murder, aggravated child abuse and aggravated manslaughter. The 12-member jury's verdict has shocked the millions of Americans who were entranced by the murder case.
The jury's decision was just read aloud from inside the Orlando, Fla., courthouse after 33 days of dramatic testimony and almost two days of emotional closing arguments.
Article continues below advertisement
Casey was found guilty on four counts of providing false information to law enforcement officials and will be sentenced for those crimes Thursday at 9 a.m.
Casey's innocence means she has escaped the death penalty.
Casey was charged with first-degree murder, aggravated child abuse, aggravated manslaughter of a child and four counts of lying to law enforcement, after being accused of killing her 2-year-old daughter Caylee Marie and covering it up by disposing of her body during the summer of 2008.
She did not report her daughter missing until 33 days later, and it wasn't until December 2008 that her body found in a wooded area close to Casey's home.
Casey's attorney Jose Baez said during his opening statements that Caylee was "not murdered, but accidentally drowned in the family pool," and Casey's father, George Anthony, helped cover up her death.
In the clip below, via TV Squad, the FOX anchor comments that there is "Smiles, hugs, tears, joy all around at the defense table," when Casey was acquitted, adding that her lawyer, once considered "hapless," now "looks like a genius."
Catch all the tension and the verdict be announced here.