NEWS
Watch Charlie Sheen Tell 'Today' Live "I Don't Know Where My Kids Are"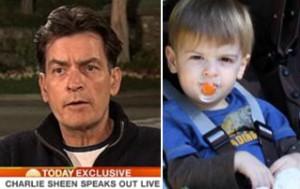 Charlie Sheen spoke on live on Today this morning admitting, "At this moment, on live TV, I do not know where my children are." His 23-month-old twins were removed by police from Charlie's home late Tuesday night.
OK! NEWS: CHARLIE SHEEN 20/20 INTERVIEW: RACHEL OBERLIN SAYS "I WOULD LOVE TO MARRY CHARLIE"
"They were just being put to bed," Charlie told Today before policed called to say they were coming over to issue a restraining order. ""I thought, OK, I can deal with that ... I got my lawyer on the phone. And then it was revealed, once I opened the door, that they were there to remove Bob and Max."
Article continues below advertisement
"I'm not into resisting the law, and just had to surrender to it," the Two and a Half Men explained. "We videotaped the whole thing ... they didn't have car seats, so I provided them and I said, 'I love you,' and I said, 'Don't say goodbye, say 'see you later,' and 'later' is going to be very soon.' "
But Charlie plans to fight to get them back and his his attorney, Mark Gross, by his side.
"If anybody thought my focus was directed in a radical way, that's going to seem like child's play," Charlie said. "This is about getting very focused, getting in touch with what I have to do to complete the task of bringing these two beautiful young men back to the home that they deserve to be raised in."
The actor also said that he heard reports his boys were taken to a hotel in Santa Monica, but he does not know exactly where they are.
"You or any other father has a right to know where your children are," Gross told Charlie. "The silence from Brooke's attorneys is very conspicuous."
OK! NEWS: CHARLIE SHEEN ON SLEEPING WITH GODDESSES — "THEY WILL TAKE A SEPARATE BED, THEN I HAVE TO CHOOSE"
The boys were scheduled to visit their mother, Brooke Mueller, starting on Thursday, but The Los Angeles police confirmed to NBC that they had enforced the court order, from her lawyers, to have the children turned over immediately.
Article continues below advertisement
"There isn't even an allegation that Charlie is a danger to the children, harmed the children or threatened the children, which is why I am so surprised by the issuance of this order," Gross said. "It's unfortunate that they chose to go this route instead of communicating."
But Charlie had a message to Brooke.
"Brooke, I'm sorry that you felt this had to be done in this way, but this does not display any responsible parenting or anything that I'm familiar with," he said. "And I think that cooler and smarter, leveler heads can prevail, and I urge you to reach out to me immediately if not sooner and tell me where our sons are."
"This is now the challenge I claimed to be looking for, and I am more than willing to take on this task," he said of getting his children back.
Watch the interview below!