NEWS
Watch Chaz Bono's "Cheeky, Cute & Cuddly" Debut Performance on 'Dancing With the Stars'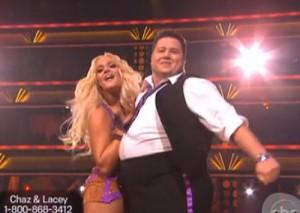 Chaz Bono truly impressed the judges last night, delivering a strong debut performance with pro partner Lacey Schwimmer on Season 13 of Dancing With the Stars.
Chaz, born Chastity, is the son of Cher and the late Sonny Bono and his casting caused a media firestorm and was met with dissension from conservative groups.
During his introduction, he explained exactly who he was and transitioned into.
Article continues below advertisement
"I'm Chaz Bono, I'm the first transgender contestant on Dancing With the Stars, which means that I was born with a female body, but have transitioned and am now a male," he said. "People first got to know me as Sonny and Cher's child on their TV show."
"Chazzy Boy you can dance! I think people have been waiting all night to see you Chaz, and you did not disappoint," judge Carrie Ann Inaba gushed after the 42-year-old's upbeat Cha Cha performance. "You've got great footwork."
Article continues below advertisement
Co-host Brooke Burke asked Chaz if the pressure was more intense for him given all the media attention he's received.
"A little bit, I've gotten so much support, I wanted to do well for those supporting me," he shared.
Backstage, Chaz gushed to OK! about his partner Lacey.
"You know she's amazing," he shared. "She's just the best, she's fun, a great teacher, choreographer, she's got the whole package."
Catch Chaz's performance below. Do you think he is a frontrunner in this season's competition? Sound off in the comments.
Reporting By Amanda Champagne