NEWS
Watch Christina Aguilera Rock National Anthem at Super Bowl Rehearshal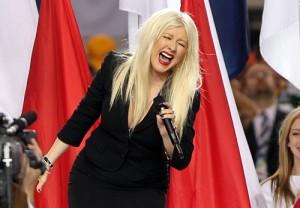 As the fallout from her National Anthem flub at the Super Bowl keeps coming, Christina Aguilera is keeping her head held high. The singer has been Tweeting against the haters, and a video of her rehearsal has been revealed on line, showing the star belting the "Star-Spangled Banner" perfectly!
Christina nailed her pre-Super Bowl performance and sounded incredible!
Article continues below advertisement
The star must have been so confident in her rehearsal that she didn't finish the song.
"I feel the support, and yes i see all the fans tweeting and keeping the bond strong! haha Godney & Godtina...funny guys lol" Christina Tweeted to fans.
She also Tweeted a link to her Super Bowl rehearsal.