NEWS
Watch Dane Cook Serenade Taylor Swift Shirtless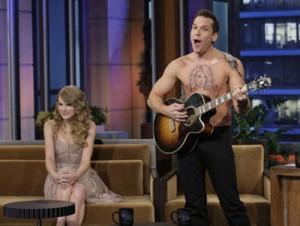 It looks like Jake Gyllenhaal isn't the only suitor after 20-year-old singing sensation Taylor Swift! Comedian Dane Cook proclaimed his love for the country crooner last night on The Tonight Show with Jay Leno, and he gave it is all with a shirtless serenade for the once-again bangless beauty.
"I'm a huge fan of yours," Dane told Taylor — who has returned to her curly roots after sporting a straight/banged hairstyle at Sunday's AMAs — to the amusement of host Jay Leno. "America's Sweetheart right here everybody."
Article continues below advertisement
Dane continued to praise Taylor, taking off his sweater and revealing a "tattoo" of Taylor's face on his chest.
As if that wasn't enough to show his commitment, Dane followed up the tat with his own version of "Fifteen."
"Taylor Swift, you're a gift, give me a lift, to your heart," he sang.
He led the audience to chant "We love you Taylor, Taylor, Taylor Swift" as Taylor's cheeks began to get a rosey!
Catch the funny clip below!