NEWS
Watch Deena Cortese Back Up Her Assets Into Ed Helms for 'Jersey Turnpike' Demonstration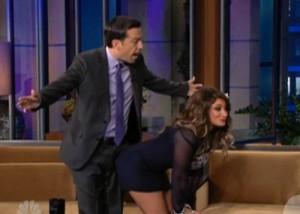 Forget about fist pumping. Deena Cortese brought a new club-favorite dance move to The Tonight Show with Jay Leno Wednesday night, and her fellow guest Ed Helms took part in the action!
Host Jay Leno asked Deena about one of her signature dance moves, the Jersey Turnpike. The Jersey Shore star was happy to explain the move, through demonstration.
Article continues below advertisement
She enlisted the help of Ed — the first guest who was sitting on the couch next to her — and he happily obliged the guidette.
The move required Ed to just stand there and look pretty, as Deena backed her behind up into him and shook her booty.
"That's a Jersey Turnpike?" Ed said, mesmerized. "I had another name for that."
Catch the hilarious clip below!