NEWS
WATCH: Diddy Dishes on the Art of Sexting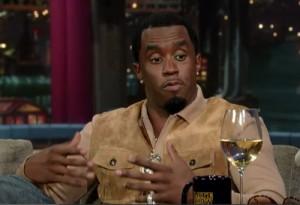 Sean "Diddy" Combs knows a thing or two about sharing intimate text messages with his love interests. The music mogul gave late night talk show host, David Letterman, a surprise lesson during last night's visit to The Late Show in the art of sexting.
Here is what Diddy had to share about mobile seduction:
"This is an art, this is a relationship that men and women have had since the beginning of mobile devices, but here is the mistake. This is where the mistake came in. When you send the picture with your head — you have to do headless sexting. You got to keep things spicy."
Article continues below advertisement
The rap superstar also took time to comment on the reported Brett Favre sexting scandal.
"Brett Favre is a human being. If you can say you never sent anything to your loved one right now raise your hand," he gestured to the audience. "Ain't nobody raising your hand."
"Even though Brett Favre is one of the best quarterbacks of all time, he is allowed to send a picture of his peni," Diddy added.
Catch the hilarious lesson below, and watch Diddy explain the right angle to send a dirty text.