NEWS
Watch Donald Trump Slam Anthony Weiner: "He's a Bad Guy, He's a Psycho"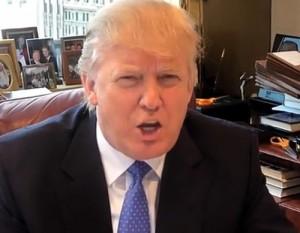 Donald Trump decided to deliver a message this afternoon, slamming Rep. Anthony Weiner for his recent Twitter picture scandal. The Donald posted a video on his YouTube channel calling the congressman a "psycho" and demanding that he "should never, ever be allowed to run for office again."
Donald loves to share his opinions with anyone who will listen, keeping himself in the news quite frequently lately.
Article continues below advertisement
He opened up about the Weiner scandal in a "From the Desk of Donald Trump" video.
And the attack was brutal.
"The fact is I know him very well. He called me all the time looking for campaign contributions," Donald began. "He would never stop. He would give me all sorts of phone numbers."
He went on to explain that he was not surprised when the congressman's indiscretions surfaced.
"The fact is Anthony Weiner is a bad guy. He's a psycho. And when this came out, I was not surprised at all," Donald shared. "You could see he was like a boiler ready to explode."
Donald's most-used phrase throughout the less than two-minute clip was "the fact is..." which he flung out at least five times.
"I thought that his career was so important to him. The fact is that what he was doing was more important to him," he explained. "Or, probably, he just had a death wish."
Article continues below advertisement
Donald does not feel that Weiner — who admitted Monday to conducting online affairs with several women after a Twitter picture surfaced of him in boxer briefs — should have a political career in his future.
"He's a liar. He should never, ever be allowed to run for office again," he said. "What he's done is incredible and what he's done to his family is truly a shame."
Donald closed with, "The best part is, I'll never have to give him campaign contributions."
It doesn't seem likely that the noted Republican mogul, who is hot off his pseudo presidential run, would award any contributions to the Democratic U.S. representative from New York, scandal or not.
Watch The Donald's rant below. Do you think it's a bit over the top? Sound off in the comments.