NEWS
Watch Elton John & Friends Share Their Support for His Aids Foundation!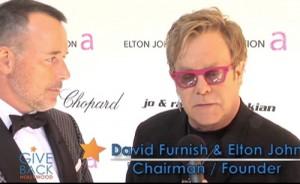 Elton John, with partner David Furnish by his side, threw another successful gala for a good cause. His 19th annual Elton John Aids Foundation Pr-Oscar Party went off without a hitch and drew in a big celebrity crowd from Sharon Osbourne, to Seal and Heidi Klum to Kim Kardashian. Catch all the red carpet action below!
"This is the biggest fundraiser we do in American for our U.S. foundation," Elton shared with Give Back Hollywood on the red carpet at his fundraiser. It's become a bigger event every year and a more successful event every year."
Article continues below advertisement
"I get so much enjoyment through coming here and all the enjoyment I get and yet people get helped from it because of the money you pay to come here," Sharon gushed. "So what could be better, its a win win situation, its the best."
Kim loves getting dolled up for events, especially when they have a special purpose!
"It's cool that Elton john puts his name with a cause that is so close to his heart at a huge event like this," she said. "The glitz and the glam is fun and it's great to be here, but when you come to an event to a good cause it makes it even better."
"If you average 4 million dollars a year, over 19 years that's a pretty hefty some for an incredible cause and we're really happy to be here," Seal shared with wife Heidi beaming at his side.
Catch more celebs in the red carpet clip below!