NEWS
Watch Farrah Abraham Awkwardly Defend 'Teen Mom' And Her Sex Tape On Howard Stern's Radio Show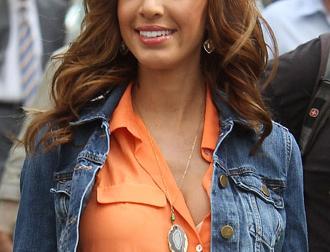 View all comments
Since we found out that Farrah Abraham would be a guest on Howard Stern's morning show, we've been debating how we were going to write about it here at OKMagazine.com. Because if you know Howard and if you know Farrah,  you would assume that their interview would be graphic. Like, we're talking rated X. And guess what? We were correct in that assumption.
Article continues below advertisement
Farrah stopped by the radio show this morning for a super long interview that we would rather not go into depth with. They discussed gross things like how she masturbates to her own sex tape and how she feels about guys doing it to her, too and that is just ew.
OK! News: Farrah Abraham Insists She's Not a Porn Star
If you're curious, though, you can can listen to the whole interview if you have SiriusXM radio, but watch this clip below that highlights some of the interview's best (slash most awkward) moments. Our personal favorite is when Farrah defends herself for not 'trying' to be famous and defends herself for getting on TV for being irresponsible in the first place. Jab at Teen Mom, party of one.