NEWS
Watch Gene Simmons & Shannon Tweed Say "I Do" on 'Gene Simmons Family Jewels' Finale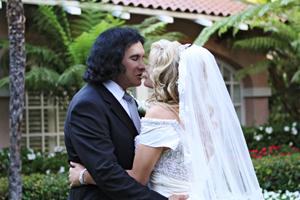 Talk about a rockin' wedding. After 28 years together, Kiss frontman Gene Simmons and his leading lady, Shannon Tweed, tied the knot earlier this month, and the world got to see the couple's "I do"s on Tuesday's episode of Gene Simmons Family Jewels!
The wedding episode marked the finale of the hit A&E reality show.
OK! NEWS: GENE SIMMONS & SHANNON TWEED SAY THEIR "I DO"S IN BEVERLY HILLS
The couple was married in a lavish ceremony at the Beverly Hills Hotel in front of more than 400 guests including Hugh Hefner, Bill Maher, and Kiss members Paul Stanley, Tommy Thayer and Eric Singer.
Article continues below advertisement
Shannon was a stunning bride, walking down the aisle in a ivory Priscilla of Boston gown, one of only three dresses she chose for her big night.
"As I walked down the aisle, all I saw was Gene as if we were in a tunnel," Shannon said of the occasion. "I didn't notice anyone else, and all I could think about was how happy I was in that moment.
Kiss even performed a number of its hits, along with performances by the couple's children, Sophie and Nick, who both sang touching songs for their parents. Sophie serenaded her parents with the Etta James classic "At Last" for their first dance!
OK! NEWS: GENE SIMMONS FROM KISS SETS WEDDING DATE AFTER 28-YEAR RELTIONSHIP
Gene was happy the night ended with a "big jam session" with his group.
"Kiss got onstage for a few songs, with an intimate concert for a little bit. We ended the night with a big jam session. The party lasted all night, and there were a lot of people still on the dance floor at the end," he said.
What were the highlights?
"There were so many memorable moments throughout the wedding," the newlyweds gushed to OK!. "Neither of us could contain our emotions when Sophie started singing our first dance song. Then Nick followed with a flawless performance. We were so proud of both of them."
After 28 years together, there wasn't much the couple didn't already know about each other.
OK! NEWS: GENE SIMMONS PROPOSES TO SHANNON TWEED AFTER MORE THAN 25 YEARS TOGETHER
"Nothing major has changed now that we are married," Gene said. "The only difference is that I have a ring on my finger now and I call Shannon my wife. I love to stare at both with happiness."
Catch a clip of the couple saying "I do" below!