NEWS
Watch 'The Girl With the Dragon Tattoo' New Official Trailer Featuring Rooney Mara!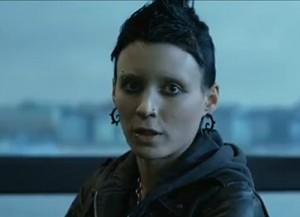 A brand new trailer for the hotly anticipated David Fincher-directed film, The Girl With the Dragon Tattoo, has been released and it certainly gives fans of the trilogy a good grasp of what to expect from the movie, adapted from the renowned novel by Stieg Larsson. The latest clip is over three minutes long and puts heroine Lisbeth Salander (the transformed Rooney Mara) at the center of the action.
Article continues below advertisement
The new, full official trailer displays the dark tale and introduces fans to Lisbeth Salander.
Lisbeth — described as "different in every way" — is a brilliant hacker who becomes intertwined with a harried journalist (Daniel Craig) who was hired by an elderly patriarch (Christopher Plummer) to find out the truth behind a 40-year-old murder.
In the clip, you see Lisbeth has built up a tough exterior, but has been the subject of a sexual assault incident which plagues her.
Rooney recently dished in the Fall Movie Preview issue of Entertainment Weekly that some scenes of the movie were very difficult to film — the rape scene, in particular.
"It was incredibly intense. We did it all in a week — the week of Valentine's Day, oddly enough," she shared. "We were working 16 hours a day, and it was really, really challenging, not just emotionally but physically."
"But it's such an important scene," she added. "We wanted to do everything we could to get that right."
Catch the trailer, via YouTube, below.