NEWS
Watch Glee's Top 'Rumours' Performances With Guest Star Kristin Chenoweth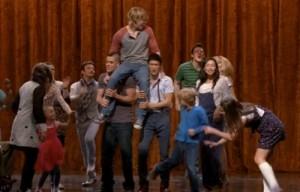 Glee stepped up its game last night with guest star Kristin Chenoweth, Brittany's new web series "Fondue for Two" and Sam's family secret. Rumors were taking over McKinley High and Mr. Schuester's solution was to have New Directions sing selections from Fleetwood Mac's Rumours.
OK! GALLERY: THE CAST OF GLEE INVADES THE BIG APPLE
Kristin (April Rhodes) didn't have many songs in last night's episode, but we're sure we'll be seeing her again as Mr. Schuester debates whether he should join her on Broadway!
Article continues below advertisement
In other McKinley High news, Artie and Brittany had a falling out, Santana struggled with her feelings for Brittany, Rachel and Quinn fought over Finn and Sam revealed a secret about his family.
But rather than read about it, it's much better to get your Glee recap through song!
OK! GALLERY: LEA MICHELE GETS COLORFUL ON THE SET OF GLEE IN TIMES SQUARE
Which performance from last night's "Rumours" episode was your favorite?
Watch them below!
Kristin and Matthew Morrison sing "Dreams"
Kevin McHale sings "Never Going Back Again"
Naya Rivera sings "Songbird"
Cory Monteith and Dianna Agron sing "I Don't Want to Know"
Lea Michele sings "Go Your Own Way"
New Directions sing "Don't Stop"