NEWS
Watch Glenn Beck's Farewell To Fox & Fans on the Final Episode of the 'Glenn Beck Show'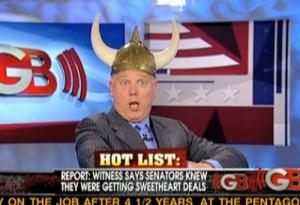 Glenn Beck said his final farewell Thursday to the loyal audience that watches his Fox TV show. The conservative TV personality took time to look back at his career with Fox News on the last episode of the Glenn Beck Show.
"This is only the third time that I've actually done live TV, so buckle up 'cuz it could get very, very bumpy," he said during his very first broadcast.
Article continues below advertisement
Most of the clips shown were off-beat and goofy, complete with several Glenn rants about the "out of control" government.
The last clip in the montage shows Glenn wearing blue surgical gloves, laughing and as he addressed the camera with: "This is the dumbest damn show on air."
Catch clip, via TV Squad, below!