NEWS
Watch Goldie Hawn, Kurt Russell & Others Rock to Vladimir Putin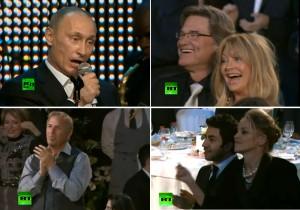 Vladimir Putin has quite a musical side. The Russian prime minister may have a tough stance on foreign policy, but he also has quite a docile side when it comes to the arts. Putin gave his best rendition of Fats Domino's classic "Blueberry Hill" for a larger audience at a charity event for cancer in St. Petersburg recently and the A-list crowd could not get enough!
The full house was packed with famous faces including Kevin Costner, Goldie Hawn, Kurt Russell, Gérard Depardieu and Sharon Stone.
Article continues below advertisement
Goldie and Kurt seemed to be the most enthusiastic about Putin's awkward performance, singing along with him and swaying to the music.
Catch the strange, yet very entertaining, clip below!