NEWS
Watch 'GQ' Footage of 'Glee Gone Wild' Photoshoot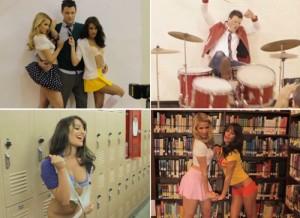 Gleeks Lea Michele, Cory Monteith and Dianna Agron certainly ruffled some feathers with their November photoshoot for GQ magazine — in which a scantily clad Lea and Dianna flank a smitten (and fully clothed) Cory. The mag's cover caused a bit of a public outcry; however, GQ continues to stand by its decision to publish the provocative photos and just released a behind-the-scenes video from the controversial shoot.
Article continues below advertisement
The castmates certainly had fun on the set with photographer Terry Richardson. Lea seemed to cut loose the most.
The Parents Television Council was not happy about the racy spread, deeming it "disturbing."
Catch the clip below!