NEWS
Watch Haley Reinhart's Final Song & Performance Journey on 'American Idol'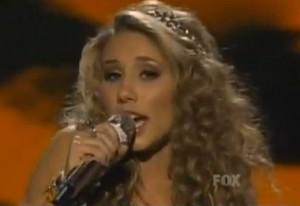 After tallying more than 95 million votes, Haley Reinhart was sent home last night on American Idol, leaving Scotty McCreery and Lauren Alaina as the final two. The contestant, who has been criticized for her attitude, looked shocked by her elimination, but kept her composure and sang her final song, "Bennie And The Jets," with lots of enthusiasm.
OK! AMERICAN IDOL BLOG — THE TOP 3 RESULTS SHOW!
"I'm feeling good right now actually, Haley told American Idol in her exit interview. "People take it different ways, but I accepted it as it happened. You never know really what's going to go down. I was just happy with that. I accepted that, I was like, 'Alright, this is happening. Lets go out good with a bang and have some fun."
Article continues below advertisement
Which of these performances was your favorite?
Haley's Elimination & Recap
"House of the Rising Sun"
"Rolling in the Deep"
"Call Me"
"Bennie And The Jets"
"Blue"
"Fallin' "