NEWS
Watch 'Harry Potter & The Deathly Hallows Part 2' NYC Premiere Live Stream!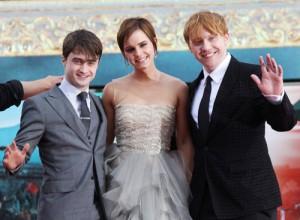 Calling all Harry Potter fans. "It all ends" on July 15, but a group of passionate fans will get to see Harry Potter and the Deathly Hallows Part 2 tonight at the NYC premiere!
The stateside red carpet premiere of Deathly Hallows:Part 2 hits the Big Apple tonight, and you can catch all the action HERE, with a live stream video, courtesy of UStream.
Article continues below advertisement
J.K. Rowling's beloved adventure is coming to an end, and last week there was plenty of tears across the pond at the London premiere. and if its east coast event is anything like the London premiere, there will be plenty of tears.
Stars Emma Watson, Daniel Radcliffe and Rupert Grint will be on-hand at the NYC premiere to celebrate with their fans!
"It is a really intimate process, making a film," Rupert, 22, told Parade.com in a recent interview. "You do form this tight bond, especially this being such a unique way of growing up, we've all shared that. We'll always stay in touch."
Harry Potter and The Deathly Hallows: Part 2 hits box offices at midnight on July 15.