NEWS
Watch James Durbin Sing "Will You Love Me Tomorrow?" on 'American Idol'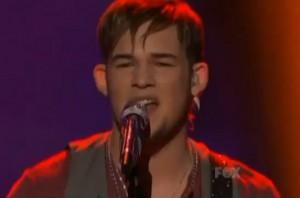 Do you still love James Durbin today? The American Idol contestant took the stage last night and slowed down his typical rock star performance with Carole King's, "Will You Love Me Tomorrow?" And the judges thought he was the star of the night!
OK! VIDEO: WATCH STEVEN TYLER CALL OUT CASEY ABRAMS ON HIS HALEY REINHART CRUSH ON AMERICAN IDOL
"I really liked the beginning of that. You had me sold on it right from the beginning," Steven Tyler said. "That was the first song I ever made out to a girl with. Oh yea, I was in a bowling alley and no, Randy, I didn't strike out."
Article continues below advertisement
Jennifer Lopez quickly took over and said, "I thought from the beginning it was magical. Totally magical. I have to say you had me moving up here for the first time all night. You are going to be the star of the night with that one. It was amazing for me. And I have to say, when I think back to every single week when we started the top 13, James has had a strong week every single week. He has not blown one week. We talk about consistency on this show and that's what's going to win it."
"Yo, man, listen," Randy Jackson said. "What I loved tonight is you turn the other cheek because tonight you weren't just a great rock singer. Tonight, you proved that you're a great singer and that's the most important thing. That was one of the performances of the last couple of months. That was incredible... this guy might just win the whole thing!"
Do you think James could win American Idol?
Watch James' performance below!