NEWS
Watch James Franco & Anne Hathaway React to Ricky Gervais Oscar Suggestions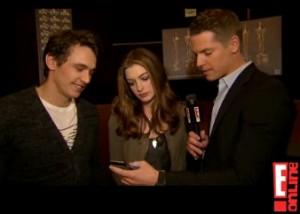 James Franco and Anne Hathaway weren't exactly thrilled when E! News told them (and then showed them) that Ricky Gervais wrote them a script to use for the Oscar. Until, that is, they realized he makes fun of himself in it!
OK! NEWS: RICKY GERVAISWRITES OSCAR OPENER FOR JAMES FRANCO & ANNE HATHAWAY
"He did his award show and he bombed," James told E! News while looking at Ricky's blog of the suggested Oscar opener. "Why is he trying to get in on ours?"
Article continues below advertisement
"Horrible," James added. "His lines weren't good on the Golden Globes."
Ouch!
OK! NEWS: ANNE HATHAWAY & JAMES FRANCO SAY THEY WON'T BE "CALLING PEOPLE OUT" AT THE OSCARS
But then James took a closer look and starting reading some lines with Anne and realized Ricky makes fun of himself in it!
"I'll use some of these lines," James concluded. "Thanks, Ricky."
But Anne wasn't sold.
"I would like to point out that Ricky Gervais has written all of the jokes for James," she said.
Watch James and Anne read Ricky's script below!