NEWS
Watch Jamie Foxx Imitate President Obama's Dance Moves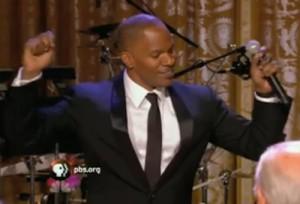 President Obama is good at taking a joke at his own expense. Jamie Foxx made an appearance on the Tonight Show with Jay Leno last night and the host showed footage of the Oscar-winning actor entertaining for the president by imitating... the president!
During a recent performance at the White House, Jamie stopped the music to call the president out on the dancing moves he showed off on The Ellen DeGeneres Show.
Article continues below advertisement
Jamie imitated the President in front of him and his family at the White House, saying, "That definitely was not the black side in you right there."
And Michelle certainly was cracking up!
"He's gotta work on his dance moves," Jamie told Jay after the clip.
Catch the funny video, via TV Squad, below!
Watch Obama's interview on Ellen where he shows off his dance moves with the host, below!