NEWS
Watch Jason Sudeikis Explain 'Twilight' to Jason Bateman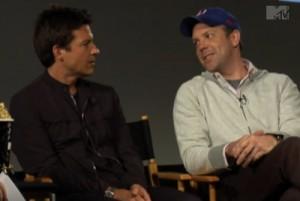 Jason Sudeikis and Jason Bateman were promoting their upcoming film, Horrible Bosses, and answering fan questions when one Twitter question prompted a big discussion about Twilight. Since he will be hosting the 2011 MTV Movie Awards this Sunday, Sudeikis is now an expert on the subject!
OK! VIDEO: WATCH KRISTEN STEWART & TAYLOR LAUTNER'S PROMO VIDEOS FOR 2011 MTV MOVIE AWARDS!
As the two Jasons and Horrible Bosses director Seth Gordon engaged in a live chat on MTV, a Twitter question came in, asking, "Can the two Jasons top the Bella and Edward kiss from Eclipse?"
Article continues below advertisement
"What is that?" Bateman asked.
And since Sudeikis has brushed up on his Twilight knowledge to host the MTV Movie Awards, he was able to explain the movie plot to Bateman.
According to Sudeikis, "Bella is the character that Kristen Stewart plays; Edward is this real handsome vampire kid played by Robert Pattinson, or, as I like to call him, Rob. And they smooch and it's up for an award. But here's the thing, buddy: She's also got this other fella floating around. Classic love triangle."