NEWS
Watch Javier Colon Win 'The Voice': "I Feel So Blessed"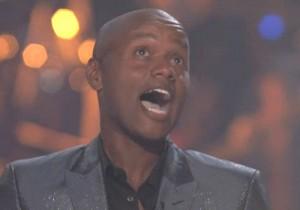 Adam Levine's protege Javier Colon ousted Dia Frampton, Blake Shelton's protege by a two percent margin last night to be crowned the first winner of the hit NBC singing competition.
"It feels amazing," Javier told reporters after his big win last night. "I am so blessed to have been able to get to his point and to be surrounded by the wonderful artists that I was surrounded by."
Article continues below advertisement
He added of his competition: "They're all amazing artists and I think that this could have gone to either of us, and obviously with the vote being 2% difference, it very well could have. So I mean I think you know, hopefully, we've all have won in a sense."
Javier said he was preparing himself to congratulate Dia.
"I mean I am honored to have the official win, but I was honestly very prepared to hear Carson Daly say, 'Dia Frampton,' and I was prepared to hug her and tell her how much I love her because I do. I love her as a person. I love her as an artist and I really love what she does."
Javier's victory wasn't only a special moment for him, but for his wife and two little girls who celebrated with him on stage.
The winner also shared his advice to fans.
"I would tell them to audition for The Voice, because I knew when I started the odds were stacked up against me, and it almost kept me from auditioning, but it goes to show that you don't
always know what's best for you and my brother's the one who talked me into auditioning. And obviously I'm glad that he did it."
The four finalists, Javier, Dia, Vicci Martinez and Beverly McClellan, will travel on a six city tour starting next month.
Watch Javier's big win in the clip, via NBC, below.