NEWS
Watch Jay-Z & Kanye West Dismantle a Maybach in "Otis" Music Video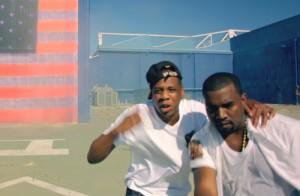 The hotly anticipated music video for Jay-Z and Kanye West's track "Otis" has landed and it is certainly just as "showy" as the song's lyrics. The Rolex-wearing rappers decide to "trick out" their glistening new Maybach as they sing all about their swag.
The clip, directed by Spike Jonze shows the dynamic duo dismantling a shiny new Maybach, transforming it into a "Thunderdome" cruiser.
What's next, riding around doing doughnuts with a harem of models along for the ride?
Article continues below advertisement