NEWS
Watch Jeff Gordon & Jeff Burton's Racetrack Fight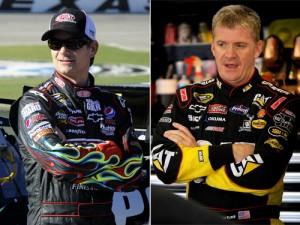 If watching cars race over 180 mph isn't enough excitement for you, how about a good ol' fashion raceway throwdown? That is exactly what viewers witnessed this weekend as NASCAR pro racers Jeff Gordon and Jeff Burton got into a bit of a squabble on the track. The fight, however, definitely helped out with NASCAR ratings!
The Gordon/Burton fight went down at the Texas Motor Speedway over the weekend. No punches were thrown, but some intense pushing had the spectators on the edge of their seats.
Article continues below advertisement
So what caused the fight?
Gordon actually got out of his car after Burton slammed him into the wall.
"Of all the people out there, I never thought that would happen with Jeff Burton I've always had a tremendous amount of respect for him, but I certainly lost a lot of respect today," Gordon told reporters of the incident.
Burton did admit he was at fault.
"I knew he was going to be mad, and I don't blame him for being mad. He didn't do anything he shouldn't have done. He was upset, and he should have been upset. I wrecked him under caution – I didn't mean to wreck him, but I wrecked him under caution – and he meant to tell me he was upset."
Regardless of who is to blame, NASCAR's ratings — which have been struggling — spiked!
Catch the fight below.