NEWS
Watch Jennifer Aniston & Hugh Jackman Say 'Farewell & Thank You' to Oprah Winfrey!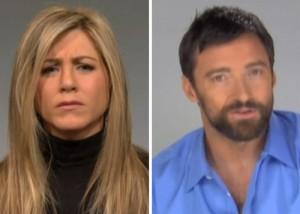 The Oprah Winfrey Show is less than a week a way from its final farewell, and the stars are certainly coming out in full force to honor legendary TV host Oprah Winfrey. The final show airs May 25, and yesterday Jennifer Aniston and Hugh Jackman shared meaningful messages with Oprah, saying their emotional goodbyes.
"It really makes me very sad," Jen began in a special video message, "cause it's something that I think we've all grown up with."
Article continues below advertisement
The A-list actress continued to praise Oprah for her inspirational words, honesty and shared that she will be deeply missed.
Hugh's message was equally as thoughtful.
"At some point, when you get to look back, I know you're going to be incredibly proud of how you've given fully of yourself to everybody and done it with love," he said. "And that is rare."
He also shared that while her show may be ending, Oprah will always be an important presence in the industry and hold a special spot in people's hearts.
Will Smith, Jada Pinkett-Smith, Tom Cruise, Maria Shriver, Tom Hanks, Usher, Beyoncé, Madonna and other big-name celebs came out in full support of Oprah earlier this week in Chicago for the taping of her farewell extravaganza at the United Center.