NEWS
Watch Jesse Eisenberg Get Hit on by The Situation on 'The Tonight Show With Jay Leno'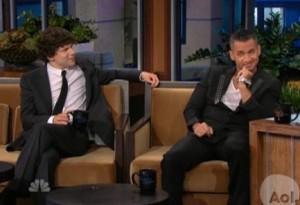 Mike "The Situation" Sorrentino made the bold claim that he can pick up a woman in Italian on last night's Tonight Show With Jay Leno. So Jay put him to the test by having him try to pick up Jesse Eisenberg, who was sitting right next to him.
OK! NEWS: WATCH THE SITUATION SET HIS SIGHTS ON SNOOKI IN JERSEY SHORE SEASON FOUR PREMIERE CLIP
Jay had guests Jesse and The Situation, who couldn't be more opposite, on his show last night and requested they act out a "situation": Mike had to hit on Jesse in Italian!
Article continues below advertisement
"Let's suppose Jesse is an attractive Italian woman," Jay said (via AOL TV).
Jesse, being the talented actor that he is, reached for his drink to prepare for his scene.
"I would have to say, 'Ciao, signorina' — that means 'Hello, miss' in Italian," Mike said.
"I don't think I would respond to that," Jesse said back.
Maybe The Situation should take some tips from the Social Networking star instead.
OK! NEWS: THE PHILMGUY REVIEWS — 30 MINUTES OR LESS STARRING JESSE EISENBERG & AZIZ ANSARI
Watch the hilarious clip, below!