NEWS
Watch Jessica Hahn & Barbara Walters' Smackdown on 'The View'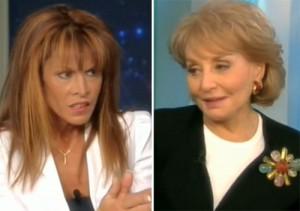 No surprise another feud was a brewin' on The View yesterday. This week the hit daytime talk show is broadcasting a special segment called "Where Are They Now?" featuring guests who were in the spotlight years ago, making the most of their 15 minutes of fame. Tuesday, Jessica Hahn, the woman who became infamous for a sex scandal with televangelist Jim Bakker, took on veteran broadcaster and co-host Barbara Walters, which turned out to be a big mistake!
Article continues below advertisement
Jessica had a sexual encounter (she claimed she was raped) with Jim Bakker in the 1980s while she was his church secretary, leading to a major scandal surrounding the televangelist.
Her involvement with Bakker launched her into the media spotlight. In 1987, Bakker stepped down from his position to protect his reputation, but eventually went to prison for paying hush money to Jessica.
During her interview yesterday on The View, Barbara and her fellow co-hosts questioned her about her affair with Bakker, taking on a tough tone, as if to admonish her for having an affair with a married man.
When Sherri Shepherd called the incident "an affair," Jessica directed her response at Barbara.
"This wasn't an affair," she said. "Unlike, I don't want to be cruel or anything, in your book Audition you had an affair with a Senator," she said gesturing at Barbara.
Article continues below advertisement
The 81-year-old veteran broadcast journalist revealed she had an affair with Senator Edward Brooke in the 1970 in her memoir.
And Babs certainly wasn't going to let Jessica take control of the interview.
"This is about you, my dear. This is not about me. OK?" she said, followed by the audience applauds. "I'm very happy talk about my relationships, but this is about you."
Catch the awkward moment in the clip below!