NEWS
Watch Jimmy Fallon & Bruce Springsteen Cover Willow Smith's "Whip My Hair"!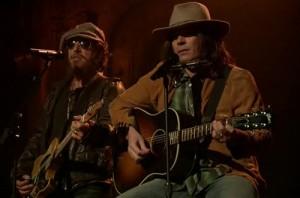 Jimmy Fallon never disappoints with skits on his late night show, always incorporating his celeb guests into some sketch comedy bit. So it's no surprise that when the Boss came to town, Jimmy went big. The beloved comedian impersonated Neil Young and was joined by Bruce Springsteen for a delightful cover of 9-year-old Willow Smith's "Whip My Hair."
The dynamic duo's version was quite the treat, and we must say it rivals, if not trumps, Jimmy's rap melody with Justin Timberlake a couple months ago.
Article continues below advertisement
Bruce and Jimmy also spoke about the "Born to Run" Emmy opening and the Boss performed "Because the Night" and "Save My Love" with Steven Van Zandt and the Roots.
Bruce also claims he can distinguish between "Boooo" and "Bruuuce" at concerts!
Catch clips below!
Interview with Bruce