NEWS
Watch Jimmy Kimmel's Teary-Eyed, Touching Tribute to His Uncle Frank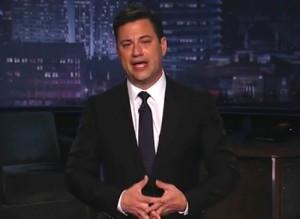 Viewers saw a different side of funnyman Jimmy Kimmel Tuesday. The late night host tried to keep his composure on Jimmy Kimmel Live, but broke down in sobs while delivering a touching tribute to his late uncle, Frank Potenza, who passed away on Aug. 20 at 77.
"Listen, I'm gonna try to do this without crying, but I'm probably gonna fail," Jimmy told his studio with tears in his eyes, as he opened up about the death of Uncle Frank, who was a staple personality on the show since 2003. "But just turn away or something, because it's embarrassing. It really is."
Article continues below advertisement
He explained that his uncle had a "few different kinds of cancer."
"His plan was to live to 103," Jimmy shared."He wanted to be oldest living retired police officer in New York City not because he wanted to set a record or be in the paper — he just wanted to stick them for another 25 years of pension checks."
He added: "Uncle Frank loved being a part of this show. And I wanna say thanks to my co-workers who talked to him and visited him and picked him up 12 hours early for work."
Jimmy then showed a video montage of Uncle Frank's most memorable moments on the show with Frank Sinatra's "My Way," playing in the background.
Watch the emotional tribute video, via ABC, below.