NEWS
Watch Jon Cryer Thank Charlie Sheen for Outing Him as a "Troll"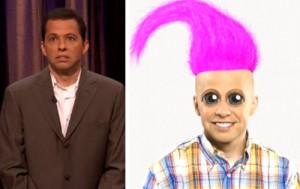 Jon Cryer is a troll. The Two and a Half Men star stopped by Conan last night to thank Charlie Sheen for outing him the public and share his side of the story. He also outed some other celebrity trolls along the way!
"Those words were very painful to me, for many reason, not the least of which... I'm sorry, I can't believe I'm saying this... The fact is, I am a troll," Jon admitted as a soft melody played in the background. "It's not something I like to talk about. My parents don't even know. Of course, I guess they do now."
Article continues below advertisement
He added: "The truth is, there's not a lot of tolerance for people like me, especially in Hollywood. To avoid ignorance and bullying, I've had to hide the fact that I'm a troll. ... You have no idea how much time and money I've spent on electrolysis and hair dye and reconstructive surgery, so that I could look like this"
The actor went on to talk about the many misconceptions that exist about the trolls, who are often mistaken for elves.
"We are the guys who dangle from little girls backpacks and sit from the end of pencils, dammit," he said.
Jon also explained that he isn't the only troll in Hollywood.
"A lot of your favorite celebrities were born this way too," he said, going on to out Paul Giamatti, Helen Mirren and Conan O'Brien's sidekick Andy Richter as trolls.
Article continues below advertisement
"I guess I should be grateful for being outed like this, I'm finally free," he concluded. "For all you other trolls living under the bridge, I'm here to tell you it gets better."
This is the first time Jon has made light of the current situation with his former co-star and the fate of his TV show Two and a Half Men. He also taped a spoof with Ellen DeGeneres who gave him a "temp" job as her secretary.
Catch the hilarious clip from Conan below! Do you think Jon is handling everything well?