NEWS
Watch Jon Stewart Beat Himself Up (Literally) For Being Too Easy on Anthony Weiner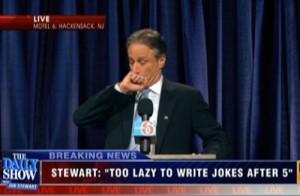 Jon Stewart feels he missed his opportunity to really sink his teeth into Rep. Anthony Weiner over the Twitter photo scandal. So last night, the political satirist held a press conference on The Daily Show to apologize for being too lazy when it came to Weiner, and literally beat himself up when he cut open his hand while making a frozen cocktail.
Jon chastised himself for not seizing the opportunity on Monday night — after Weiner admitted earlier that day to conducting online affairs with several women after a Twitter picture surfaced of him in boxer briefs — to slam the New York Democratic Congressman for his indiscretions.
Article continues below advertisement
Then Jon resigned from The Daily Show, and John Oliver came out to announce he was taking over.
"That's a genuine problem," John admitted when he saw Jon bleeding.
"We better hurry up this f****** bit because I am bleeding out, motherf*****!" Jon shouted.
"Don't be so Jewish about it, you're fine," Oliver yelled back.