NEWS
Watch Jon Stewart & Stephen Colbert's Showdown at The Comedy Awards!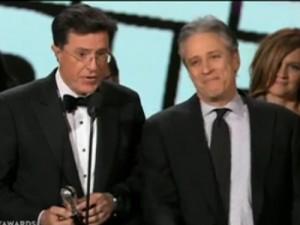 Jon Stewart and Stephen Colbert are known frenemies and they took their banter to the perfect venue last night — the first annual Comedy Awards on Comedy Central. Jon and The Daily Show can now add a big C award to his Emmy, but unfortunately Stephen did not win for The Colbert Report. And he is tired of trailing his nemesis.
As Jon was accepting his speech, Stephen moved closer and closer, staring him down on stage.
Article continues below advertisement
OK! VIDEO: WATCH JON CRYER PREVIEW HIS RAP ALBUM AT THE COMEDY AWARDS!
"Do you wanna say something, Stephen?" Jon asked.
And Stephen made his move: "Every year I sit behind Jon at the Emmys and every year he wins the award ... I always hug and I kiss you and I mean it because you're incredible and I love you, buddy. But tonight, you can go f*** yourself. Get off the stage!"
So to the enjoyment of the audience, Stephen accepted the award on behalf of "all the late-night comedians who've suffered at the hands of Stewart's consecutive wins."