NEWS
Watch J.P. Rosenbaum Propose to Bachelorette Ashley Hebert: "I'm Madly in Love With You"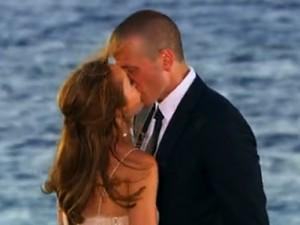 Ashley Hebert gave out her finale rose last night on The Bachelorette and in return she got a huge sparking Neil Lane diamond from J. P. Rosenbaum. That's right! Ashley finally got her happy ending as 34-year-old New York native J.P. Rosenbaum got down on one knee and proposed to the 26-year-old dental student against the gorgeous island backdrop of Fiji — one of the most picturesque proposals for the hit ABC franchise.
Article continues below advertisement
"I'm so in love with J.P. I'm just hopeful that he feels the same way," Ashley gushed, already having to deal with the Ben Flajnik's difficult departure. "My relationship with J.P. is everything I ever wanted in a marriage. I can see him as the best husband and the best father. I cannot wait to hear what he has to say, but at the same time I feel he can break my heart."
And luckily for Ashley, J.P. — who struggled with proposing for fear of being rejected — stuck to his word and "took a leap of faith."
First, J.P. called his leading lady "gorgeous" — Ashley radiated in a $16,790 Randi Rahm gown for the special occasion, a designer she wore frequently throughout the season — and then reminisced about their journey together.
"It's a lot different once you are here," he explained. "It's so hard to believe where this all started and how far we come. I remember getting out of the limo as if it was yesterday."
Article continues below advertisement
"The hardest thing out of all of this has been not knowing. I'm an open book. All my cards are on the table," he continued. "I know I told you my biggest fear was falling in love with you and having my heart broken again."
And then he really opened up. "I know I have to take a leap of faith. All the time that we spent together, it's been the happiest time of my life. You always say to me, 'If I smile all the time, I'm going to have wrinkles.' All I know is that I'm madly in love with you. I love everything about you."
"Today is the reason why I went through all the good times and the bad times. I've been wanting to tell you how much I love you for so long," Ashly gushed. "You mean the world to me, and I don't want to be with anyone else but you forever."
She added: "I'm so in love with you. You're the one. You are it."
And as the duo beamed, and embraced, for a second, it seemed as if J.P. was maybe not going to propose — until he got down on one knee!
J.P. came through, and asked for Ashley's hand in marriage, with a gorgeous Neil Lane diamond.
So far, only two couples from The Bachelor/Bachelorette franchise have successfully made it down the aisle
Catch the happy ending in the clip, via Hulu, below.