NEWS
Watch Julianne Hough Perform With (Injured) Derek Hough on 'Dancing With the Stars'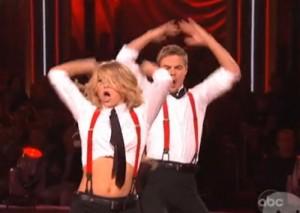 Julianne Hough returned to Dancing With the Stars Tuesday to perform a number from her debut flick Footloose and take the stage with her brother Derek Hough for an energetic performance. It was great to see the duo together again, and their commitment to the show, as Derek had injured his shoulder, but still gave it his all on the dance floor!
Derek and Julianne performed the jive to the delight of the crowd.
Article continues below advertisement
Her return to Dancing With the Stars was very emotional and brought tears to her eyes as she called the set "home."
"It's kinda crazy how Derek & I danced for the first time after I had surgery & how this time His shoulder was injured The show Must go on!!" Julianne Tweeted.
Derek reportedly dislocated his shoulder during Monday night's performance with Ricki Lake, which topped the leader board!
He is certainly a strong dancer.
Derek turned to his Twitter as well, sharing: "Had a great time with my Sis tonight on the show. For old time sake :)) hope you guys enjoyed it . It Was last minute but had a lot of fun"
Catch their performance below!