NEWS
Watch Justin Timberlake Beat Regis Philbin in Fierce Ping Pong Match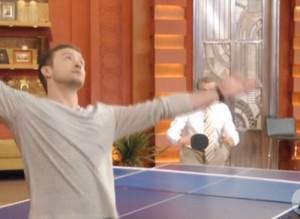 Regis Philbin wanted to take down the seemingly invincible Justin Timberlake today the best way he knew how — a ping pong match. The duo went at it this morning on Live! With Regis and Kelly and proved they were pretty equally matched, but there was a clear victor.
"Everything you touch is a home run," Regis said to Justin, adding, "The singing, the acting, everything."
Article continues below advertisement
The gracious JT pretended to be offended, responding, "I won't stand to be insulted on national television."
Then Regis explained he heard the Justin was a decent ping pong player.
"It happens to be one of the best sports I can do," Regis said excitedly, challenging him to a game.
And Regis was a bit overzealous about his skills.
"He once played for the Mickey Mouse Club," he jested. "Ooohhh! I'm so scared."
But Regis' cockiness didn't pay off, as JT beat him out!
Catch the clip, via TV Squad, below!