NEWS
Watch Justin Timberlake Make a Fool of Himself in ESPY Awards Promo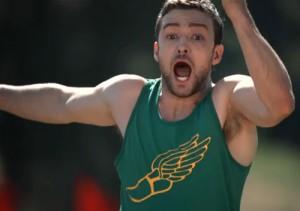 Justin Timberlake may be a singer and an actor, but he really isn't much of an athlete. Justin tries his best yet fails at most sports in a new promotional video for ESPN's July 13 ESPY Awards!
Justin hosted the annual award show — honoring the best athlete in the game — in 2008 and comes back to help crack some jokes in the promotional videos.
At the ESPYs next Monday, the Friends With Benefits star will be on hand to present the Capital One Cup, which honors top college athletes.
Article continues below advertisement
In the vids, his attempt to play soccer, lacrosse, wrestle and dive fails – but his epic failures turn into comedy.
Justin wears a cape to a wrestling match, asks one of his swim teammates, "Hey, don't look at my butt," and uses his field hockey stick as a dancing stick.
This year's ESPYs host, Saturday Night Live wrtier/star Seth Myers, has worked with Justin on the promotional videos and thinks the former N'SYNC star is "talented and smart."
He also said that he and Justin have been discussing JT's new Myspace venture (as he was one of the buyers of the site.)
"Well we've been talking a lot about that during the ESPYs preparation shoot," Seth shared with OK! during a conference call. "I would say that anything that Justin's involved with I like a chances more than Justin not being involved with it."
Article continues below advertisement
This week Seth said he is busy shooting short films and writing monologue jokes.
"You know we really want to get this adhered there to the athletes if anyone wants to have a sex scandal in the next few days that'd be great," he quipped.
But don't worry — there will still be some serious teasing.
"The good news about the ESPYs is that you have the entire year to find people who are worthy of a joke or two," Seth mused. "And so yeah obviously we're going to move on to new people. With that said I mean Lebron James and Tiger Woods aren't completely out of the news."
Watch Justin's promotional video below!