NEWS
Watch Kat Von D Tattoo Lady Gaga Before She Was Famous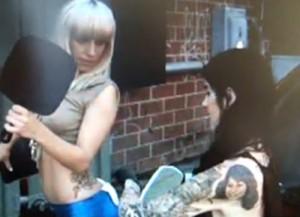 Lady Gaga hasn't always been the center of a media firestorm. Before she was Mother Monster, Gaga — real name Stefani Germanotta — she was just an aspiring artist trying to make it. And she knew where to go for rockstar tattoos — Kat Von D. A video has surfaced of the tattoo maven giving Gaga some fresh ink before she was famous!
In 2008, before the release of her debut album, Gaga went to L.A. to get a tattoo from Kat.
Article continues below advertisement
She wore a blonde wing and electric blue spandex for the occasion, and chatted with Kat about her career.
"I'm a singer and also a songwriter for other artists," Gaga tells Kat in the below clip.
Kat responds: "Working on anything cool and interesting?"
"I worked with New Kids on the Block last night, it was rad!" Gaga gushes.
And now three year later, Gaga tops Forbes' Most Powerful Celebrity list.
Catch the clip, via YouTube, below.
You've both come a long way, baby!