NEWS
Watch Kate Gosselin Swim With the Sharks Down Under on 'Kate Plus 8'!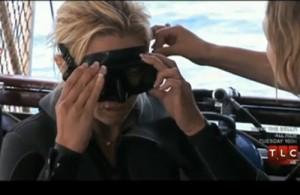 Kate Gosselin started off with a daring stunt on the premiere of the second season of Kate Plus 8 last night. Kate and her brood were in Australia for the Season 2 debut and the mom of eight decided to tackle two of her fears at once, including swimming with the sharks!
"I am not a swimmer and I don't like being underwater," she said as she was about to take on the great whites down under.
Article continues below advertisement
But it turned out that it wasn't so scary, as the sharks weren't to interested in Kate.
"After being out on the boat for 8 hours, we didn't see any sharks," she revealed.
At leased she conquered her fear! Watch the clip, via TV squad, below!