NEWS
Watch Kate Upton Do 'The Dougie'; The Model Dating Kanye West?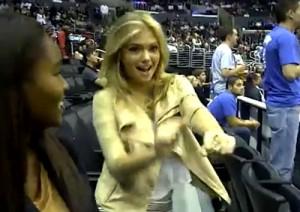 Sports Illustrated model Kate Upton is used to heating up the Internet with her sexy bikini bod, but now her dance moves are making headlines. The blonde bombshell was caught on camera at the Clippers game at the Staples Center in L.A. over the weekend, dancing to the hit "Teach Me How to Dougie" by the hip hop group Cali Swag District!
Kate's pal egged her on as she swayed and did the hip hop dance very accurately.
Article continues below advertisement
Kate, 18, is a former Victoria's Secret model and Guess spokesperson, who debuted this year in Sport's Illustrated Swimsuit issue, heating up the pages with her figure.
Most recently, she has been romantically linked to Kanye West.
According to the New York Post, Kanye met her at the Victoria's Secret VIP Swim event at Club L in L.A. and spent the night flirting with Kate.
"A spy reports the two were seen flirting and left hand-in-hand through the back door to avoid paparazzi around 12:30 a.m.," the NYP report claims.
Wonder what Kanye thinks of Kate's hip-hop moves? Watch the clip below.
The Original "Dougie"