NEWS
Watch Katie Couric Spoof Kate Gosselin: Reveals Her New Show 'Katie Plus Eighty'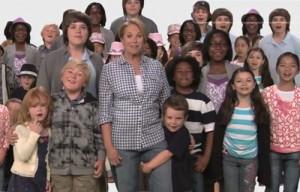 After the big announcement that she is headed to host her own talk show on ABC, Katie Couric has been busy making her PR rounds. Last night, she stopped by Jimmy Kimmel Live to promote her new gig and also previewed a clip of another project she is working on — a new reality show Kate Plus Eighty which spoofs Kate Gosselin and her TLC hit.
Jimmy Kimmel revealed that aside from her new syndicated daytime talk show on ABC, Katie has also been working on a reality show!
Article continues below advertisement
"I'm particularly excited about that, Jimmy, because I thought that's what clinched the deal for me," Katie quipped of her faux new reality show. "Yeah, absolutely. I definitely want cameras in my house."
Katie then reveals she brought along a sneak peek at her new show, Katie Plus Eighty, a clear spoof on reality TV mom Kate Gosselin.
In the hilarious clip, Katie feeds her eighty kids spaghetti with a catapult and does loads and loads of laundry.
"She's a single mom with 80 kids, she's 'Katie Plus Eighty,' " the announcer exclaims.
Watch the spoof below!