NEWS
Watch Katie Holmes Show Jimmy Fallon How to Dance While Driving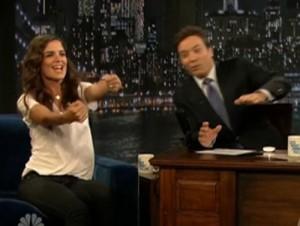 Katie Holmes loves to dance. The actress geared up for her hosting gig on So You Think You Can Dance tonight by showing Jimmy Fallon some of her moves Tuesday evening! Katie paid a visit to Late Night With Jimmy Fallon and demonstrated to the comedian how to get your groove on — while driving!
"I do dance in my car," revealed the actress, who is promoting her thriller Don't Be Afraid of the Dark. "I've gotten caught before, but that doesn't stop me. I think, 'You know what, I like to do it,' and when I see other people doing it, I'm like, 'That's right — enjoy it!' "
Article continues below advertisement
But Jimmy wasn't convinced.
"That doesn't make it right — 'cause you like it!" he quipped. "I like to text in the car, too, but I have to drive — and I like drinking, okay, so what?"
Then he asked the Roots to get a house beat going so Katie could demonstrate, and she proved him wrong!