NEWS
Watch Katy Perry's 'Last Friday Night' Featuring 'Glee' Stars Darren Criss & Kevin McHale!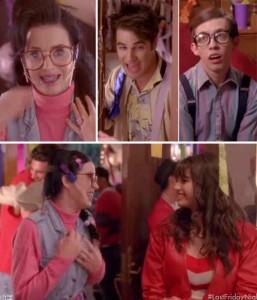 Katy Perry has finally revealed the full music video for her new single "Last Friday Night (T.G.I.F.)" and it's jam-packed with celebrity cameos! From Glee stars to viral video stars to a child stars and an award-winning saxophonist, Katy brings out the big guns for her spoof video.
The video shows Katy's geeked-out alter ego Kathy — a 13-year-old girl whose interests include Beanie Babies and Hanson, according to her Facebook page — waking up after a huge blowout party, and trying to remember what happened the night before.
Article continues below advertisement
In the video, Katy (as Kathy) throws up in a roller skate before experiencing a major nip-slip.
Glee stars Darren Criss and Kevin McHale make cameos in the video and "Friday" singer Rebecca Black plays Katy's best friend.
Hanson plays in the backyard at the party and Corey Feldman and Debbie Gibson star as Katy's parents.
Even world-renowned sax player Kenny G even makes an appearance!
Do you like seeing Katy Perry switching things up and having fun with spoof videos?
Watch her clip in the video below, via Funny or Die, and sound-off in the comments.