NEWS
Watch Kirstie Alley Bash David Letterman for Calling Her Fat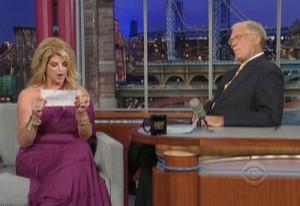 Kirstie Alley got some revenge on David Letterman last night for all those fat jokes he told about her. While the whole situation seemed to be in jest, Kirstie was hard hitting when it came to calling out the talk show host on his cruel comments, and even hit the Late Show segment prepared with a list of them to read to the audience.
Kirstie pulled out a piece of paper from her bra, where she had jotted down some of Dave's fat jokes.
Article continues below advertisement
"Kirstie Alley joining Dancing with the Stars. If you don't already own one, now might be a good time to get a wide screen TV," she read, as Dave sat with his head down, looking a bit embarrassed.
Dave explained that he had first asked for her approval for the jokes, and since she had given him permission, he ran with it.
"I said it's okay, so that was like go ahead and tell 50 of them?" she asked.
The witty host didn't have much of a comeback for that question.
"We do love you, and if you were skinny, we would tell jokes about you — no, probably not," he said.
Catch clip, via TV Squad, below.