NEWS
Watch Kourtney Kardashian Explode At Kris Jenner After Being Told to Get Married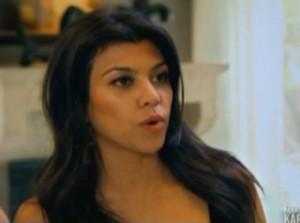 With Khloe Kardashian Odom already married and Kim Kardashian heading to the altar this summer, momager/matriarch Kris Jenner wants her oldest daughter Kourtney Kardashian to get married already! But when Kris confronted Kourt about the issue on Sunday night's episode of Keeping Up with the Kardashians, the 31-year-old mom exploded.
Kourtney and long-term boyfriend Scott Disick seemed to have worked through their tumultuous relationship and are proud parents to adorable Mason Dash Disick. They have even been open with their plans to have another baby in the near future.
Article continues below advertisement
So it seemed liked the perfect time for Kris to lecture about marriage.
"You're going against every single thing that I believe in. You grow up and you get married and you have babies," Kris said to Kourtney, with Scott, Kim, Kendall and Kylie Jenner all present in the family home. "A tradition."
"F*** your tradition!" Kourtney lashed out. "I'm happy, Mason's happy, Scott's happy."
Their conversation continued to escalate, and Kourtney threatened that if her mom didn't start supporting her lifestyle, then she just won't bring herself, Mason or Scott around the family anymore.
"There's no reason to say 'shut the f*** up' to your mother," Scott said, but Kourtney had enough of her mom's meddling and stormed out of the house, also yelling at Kim for not standing up for her.
Kourtney wrote on her blog, that she has had enough of her mom's marriage pressure.
"As much as I have told her time and time again that Scott, Mason and I are happy as we are, she just won't let up," she wrote.
Whose side are you on? Sound off in the comments.
Catch clip, via TV Squad, below!