NEWS
Watch Kristen Wiig Deny Her 'SNL' Spoof of Elisabeth Hasselbeck on 'The View'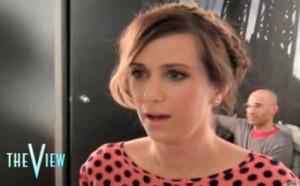 One of Kristen Wiig's Saturday Night Live spoofs came back to haunt her today backstage at The View. When co-host Elisabeth Hasselbeck complimented the comedian's portrayal of her on SNL, Kristen seemed so afraid, and then she denied it was her!
"I love how you play me on SNL," Elisabeth said, face-to-face with Kristen. "You're great."
Article continues below advertisement
"No, that's someone else," the Bridesmaids star responded nervously. "I don't... I don't do that. That's someone else in the cast."
Catch the clip, via TV Squad, below!
Watch Kristen as Elisabeth in the following clip!