NEWS
Watch Kristie Alley's Shoe Mishap on 'Dancing With the Stars' — Was She Sabotaged?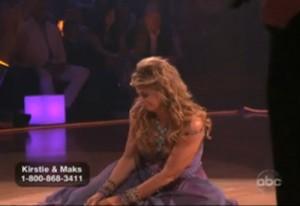 Kirstie Alley hasn't been very lucky on the dance floor. Last week on Dancing With the Stars she took a tumble during her performance when her partner Maksim Chmerkovskiy's knee gave out. But last night it wasn't Maks' fault. Kirstie lost her shoe during her waltz!
Maks did a bit of a solo across the floor while Kirstie held a seated position as she struggled to get her shoe fixed so she could continue the routine.
Article continues below advertisement
And just like last week, the duo triumphed.
Judge Carrie Ann Inaba said Kirstie even performed with "so much more joy" after the incident.
Len Goodman wasn't as complimentary, but Kirstie still ended with a respectable score of 22 out of 30.
After the show, Kirstie joked with reporters about her footwear foible.
"I think it's a conspiracy," she quipped. "I think the other girls cut my shoe!"
But Kirstie is taking it all in stride and is ready to hit the dance floor again!
"All I feel like is I want to be here, I want to win! I still haven't given that up, I want to be the best," she told reporters. "It's a process to be the best. You just keep going until you are the best. I can't help but think that if we did the dance correctly we could have gotten some 9's. I really do want to be a good dancer."
Article continues below advertisement
Sounds like nerves may also be getting the best of Kirstie with her celeb friends in the audience.
She admits, "I'm starting to get nervous! I mean I'm inviting them to see me dance, not laying on the floor putting on shoes. They can see that at my house!"
Kirstie was less poised on Twitter when she addressed her fall.
"For f**k sake!! Excuse my French but REALLY!!!!!!! Who the loses shoes on DWTS???? U need a universe adjustment !!!!"
Watch her performance, via TV Squad, below. Do you think Kirstie is cursed?