NEWS
Watch Lady Gaga Chew Up David Letterman's Notes & Not Spit Them Out!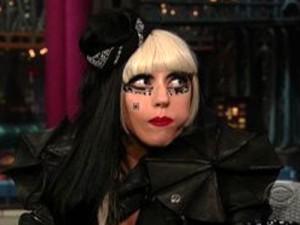 David Letterman hosted guest Lady Gaga Monday night on the Late Show, and he wanted to get to the bottom of some rumors that have been circulating about the superstar. Mother Monster remained very calm in her replies, but still managed to stun Dave when she decided to eat his notes.
So what were some of the rumors?
On her meat dress being preserved as beef jerky: "Yes." On if she relaxes by fly fishing: "No." Did she eat a Barbie doll's head during a stage production? "Yes. All the time."
Article continues below advertisement
Dave did not believe the Barbie doll tale, so Gaga took his questions and ripped them up.
Then she proceeded to chew up the paper and would not spit it out.
"It's delicious," she claimed.
When Dave warned she would get sick from the trace chemicals found on the paper, the theatrical Gaga pretended to pass out.
Catch the ridiculousness in the clip, via TV Squad, below!